Prepare to be 'WOW'ed!
'Wipe out Waste', an initiative of Nari Artisans Movement (NAM) is gaining momentum each year with the involvement of diverse women exhibiting multiple skills in recycling and up-cycling of unwanted, discarded waste material and turning it into adorable and usable products
Story: BHARATI |

PAWASKAR

|
12th October 2017, 07:07 Hrs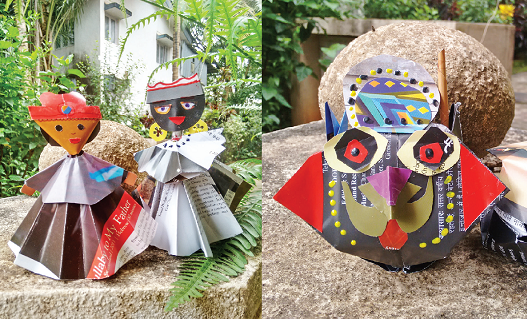 Used, discarded, unwanted, trash -- the words seem to carry a stigma and stink even if one utters or hears them and stirs up negative emotions. But who should be held responsible for the waste that's being created on this planet? Certainly us! So it's our moral duty to create less waste, to reuse already created waste in a wise way and see that no more un-disposable waste is created. "Nari Artisans Movement (NAM) is aiming at just that," states Aira Mirchandani, one of the three founders of NAM. Initiated by a group of three women sharing the same passion - Natasha Fernandes, Milan Khanolkar and Aira - NAM is a movement of preserving and reviving Goan artwork meticulously handcrafted by local women.
Through workshops, exhibitions and training sessions organised by NAM, a platform is being offered for artists and artisans to display their talents and learn from each other to take the movement ahead. And on October 14 and 14 (11 am to 7 pm), NAM is all set to organise its third edition of 'WOW! Wipe out Waste' - 2017, a unique exhibition and sale of up-cycled products at Institute Menezes Braganza.
According to Aira, people today don't value old enough and are quick to throw away things that can instead be repaired or mended. "We need to change the definition of waste and add some value to this word 'old'. Our ancestors wisely reused what had turned old. Then why do we take pleasure in dumping everything that we think is old and has lost its charm?" asks Aira.
By redefining one's needs, one can easily redesign and reuse the same, good old stuff by modifying the look and changing the use of it. "WOW is making that happen," quips Natasha, who is also the curator at the Museum of Christian Art, Old Goa. "WOW is not only an opportunity to give individuals a platform to showcase their creative works crafted out of waste, and prove that there is potential to turn this into an enterprising business but also to share ideas and inspire all to wipe out waste and save planet earth," she adds.
While Aira, has extensive experience in fabric and garments both in and outside Goa, the third member in NAM, Milan is an artist herself and an illustrator working with media like clay and paper. "I create envelops, gift bags, bookmarks and dolls out of newspapers," states Milan who was the resource person in a recent workshop at Bookworm in Panaji. Aira is good at making paper baskets. She also makes bags out of old jeans and hairbands, necklaces and flowers from t-shirts. Apart from Aira and Milan there will be many other artisans and entrepreneurs ( a total of 20 in all) participating in WOW 2017.
"Upcycling is a better way to make new items cost effective," admit Kimberley and Beverly D'Souza who are into wedding and party décor. They use scraps of cloth to make various articles for gifting or decorating. Another participant of WOW, Suniti Prabhu Chodnekar is one of the few who practice a traditional craft - patchwork on cloth. Sharmila Anant Prabhu, who is a homeopath, on the other hand, trains young unemployed and drop-out girls to make bags out of used sarees or bed sheets to earn a living. There are others like Winti Rodrigues who loves to keep culture and traditions alive. Winti makes 'Rotecao' or cane work on wooden furniture that is a typical Goan craft. She also repairs old furniture. Deepa Nasnodkar, Joscia Coutinho, Revati Sanzgiri, Presentation Society, Peace Haven School, Alter Energyz, Alda Monteiro, Vijaya Batliwala and Bamboo India are some of the other participants of WOW.
"There's immense joy to create something on your own. Everyone has talent but most don't use it. All have skills but even if we find them we don't hone them. WOW is here to change the attitudes of people - to bring in a positive change in their lives. Many a times it is also therapeutic. When time is utilised creatively, the brain functions better. When you learn new things, the brain forms new pathways. So learn, practice and get going," smiles Aira.
Related news