Uproar in wholesale market after officials intervene to stop retail sale of fish
South Goa Planning and Development Authority's wholesale fish market witnessed an uproar on Wednesday morning after the authorities tried to remove the traditional fishermen from Salcete's coastal belt on the charge of selling retail fish and doing business in the market beyond 9 am.
Story: the |

goan

|
12th October 2017, 06:32 Hrs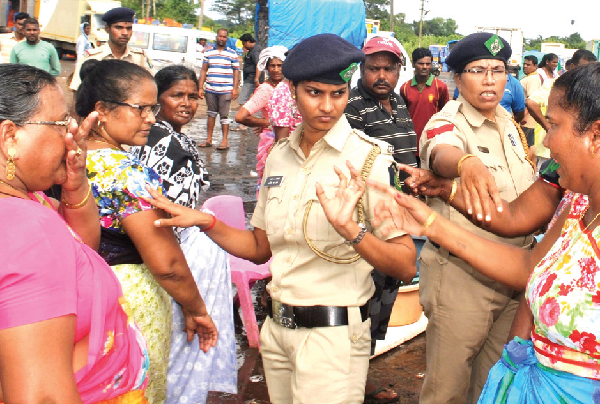 MARGAO

The action evoked strong protests from the fishermen, who claimed they belong to the traditional fishermen community, unlike others who sell fish as a part of business.
"We are Niz Kharvis. Our men go into the sea at any time and we bring the catch to the wholesale fish market for sale. How can the SGPDA and the police order us to restrict our activity only to 9 am," asserted Luiza Rodrigues.
Santana Rodrigues echoed similar sentiments.
"Unlike the retail fish vendors, we are Kharvis dependent on the traditional fishing. These retail vendors buy fish from us and sell in the retail market. We have no fixed timings and our business depends on the fish catch by the rampons (traditional fishing gear)", she said. Santana pooh poohed claims made by the retail fish vendors that their business has suffered because of the wholesale fish market, demanding to know whether they dispose off their unsold fish in the wells everyday.
Inacinha Fernandes said the traditional fishermen has no problem for the action against the migrant vendors selling retail fish in the wholesale market or imposing timings for fish sale on the platforms that comes from across the border.
"How can the authorities restrict our activity when it is purely dependent on the fish catch at sea. The moment there's a catch we come to the wholesale fish market for sale. They cannot put a ban on fish sale after 9 am", she asserted, saying the authorities cannot dictate terms to them to sell the fish at a particular time. "The retail fish vendors are not fishermen by occupation. Ask them how many rampons they own", she said.
Alice Fernandes demanded to know whether the traditional fishermen will go the palace to sell fish if they are stopped from doing business at the wholesale fish market.
Other traditional fishermen demanded to know whether the government is deliberately pushing the common to buy fish from the retail fish market at exorbitant rates for the benefit of the retail vendors.
SGPDA official Paul Carvalho later told the media that action against the traditional fishermen was initiated since the vendors were sitting in the market beyond 9 am.
While the SGPDA has warned to return back to the wholesale fish market with additional police force on Thursday, the traditional fishermen appears bracing up for a battle for survival. They also plan to call on the TCP Minister Vijai Sardesai on Thursday and explain him on the activities of the traditional fishermen and why they should not be clubbed with other fishermen.
Related news