"People are starting to know who I am"
Ramya Pothuri's new track 'By the Sea' is all about learning to keep calm. And the budding Mumbai based singer and songwriter can't wait to perform her music live as part of her Goa tour organised by Songs from the Attic
Story: CHRISTINE |

MACHADO

|
11th October 2017, 07:27 Hrs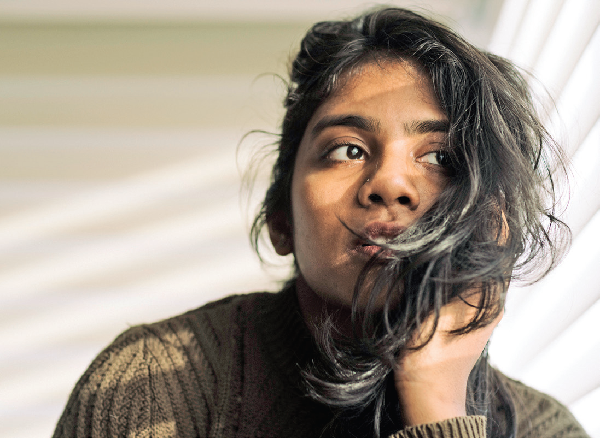 #TGLIFE: Tell us about how your new record 'By The Sea' came together?
Ramya Pothuri: I wrote this song at a time when I needed to calm my mind. I was in this place where I was overthinking every aspect of my life and the song was about that and how I learnt from people around me on how to keep calm and be at peace with surroundings. Mentally I just want to be be in a place of happiness and calm. I'm not there yet but that's where I aspire to be. Also, when I was really upset about something I would go sit at the Carter Road Promenande for even two hours and this would help calm me down. Hence, the title.
#TGLIFE: Is the tune already available online?
The tune is available on itunes right now and on October 13 will be released across all platforms. I am also working on a music video for the song.
#TGLIFE: Is this the first time you are doing a music video?
For my previous EP (We Never Left), I made an aftermovie around the concerts and then used it as the music video for one of my songs. But this is my first proper music video and will include a lot of footage of home videos filmed by my dad when we were younger back when we were in America. We used to do a lot of road trips then and there's a lot of footage of us in all these beautiful places like Colorado, Florida and California. When I was doing this song, scenes from these videos used to come to my mind and I believe it was perfect to include them in the music video. It's still a work in progress though.
#TGLIFE: You usually prefer performing at small intimate space instead of bigger venues.
My music is more mellow . I gravitate towards audience who are coming to listen to music and not just to socialise. So I am pretty excited about my shows in Goa which are going to be exactly like this.
#TGLIFE: And tell us what can we expect from the shows here?
Apart from the new tune and songs from my last EP, I will be performing a lot of original music that I haven't released yet and a few covers that I like to do. Performing new unreleased music is pretty nerve-wrecking because I am trying to get a feel of people's reactions to it before I solidify it.
#TGLIFE: Have there been occasions where people have asked you to play covers instead of your own music?
It depends on where you are playing. A lot of audience don't want to hear what they don't know. Their brain just shuts off. But there are others who come out to discover new music. I have had many requests to do covers. If it's a corporate show I understand, but when I am doing my own show, you feel a little down because they don't want to hear your own music. But that's going to happen a lot.
#TGLIFE: What have been your biggest learnings since you started to now?
I think one of the biggest learnings was overcoming stage fright. Before, I would get nervous like two weeks before the gig. Now, I am just excited. Also, when I began I would just sing song after song without really talking in between. People want to learn about you. They want to fall in love with you as much as your music. So I am learning how to show myself on stage. I've also learnt so much about music production and in fact I produced this new one myself. And I will continue to do this because I am capable of it.
#TGLIFE: What's your take on the response to your music so far?
At first, I couldn't really understand it. I just put the music out there and hoped for the best. But it's nice now when people know my music when I do shows. Also, after the EP, I got so many opportunities, even touring Sri Lanka. People are now starting to know who I am. And I have to step it up for my next EP. I already have the songs in place but they have to be recorded. I am hoping for a January or February release next year
Related news