Goa Dairy to levy ` 2 on cattle feed
It may be promoted as the "good and simple tax", but the Goods and Service Tax (GST) is hardly good news for dairy farmers in the State.
Story: the |

goan

|
10th October 2017, 07:26 Hrs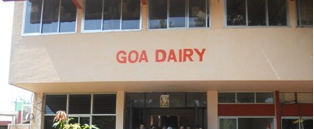 PONDA

Faced with a 5 per cent GST on cattle feed, the Goa Dairy has decided to levy a Rs 2 hike on 'high protein' and 'high energy' cattle feed variants.
Goa Dairy Managing Director Dr Navasu Sawant confirmed that they have had to increase the rate as Goa Dairy incurs a 5 per cent GST on raw materials. "We have increased prices by Rs 2 on both variants of cattle feed," he said. "Now, high protein cattle feed will be sold at Rs 19.30, while high energy will be sold at Rs 19.80," Sawant informed.
Incidentally, sources told The Goan that Goa Dairy's present rate for cattle feed is 25 paise costlier per kg than other brands.
It may be recalled that at the recent annual general body, Goa Dairy had admitted to a loss of Rs 5.50 crore at the cattle feed unit.
Vikas Prabhu, chairman of Gananath Dudh Sanstha from Nirankal, said Goa Dairy faced loss on cattle feed due to several reasons. "There was manipulation in the last term, where purchases (raw material for cattle feed) were made at a higher cost. This was the major cause why Goa Dairy faced losses in this area," Prabhu stated.
According to Prabhu, Goa Dairy Chairman Madhav Sahakari has vast experience in this area and they are optimistic to see good days under his leadership.
Prabhu, who is one of the members of Satya Shodhak Samiti constituted by AGM, said they are monitoring all purchases and are keeping an eye on all affairs pertaining to cattle feed.
Asked to comment on the actual impact of GST on cattle feed, Prabhu replied: "It will be clear only during the next financial year. Everything will be clear by April."
Related news