No 'moolah' in redeveloping old buildings of Panaji
The North Goa Planning & Development Authority (NGPDA) hasn't given additional FAR for redevelopment of old buildings in Panaji. Due to which, it's really difficult for builders to make it commercially feasible to redevelop old buildings. KARAN SEHGAL writes
09th October 2017, 05:45 Hrs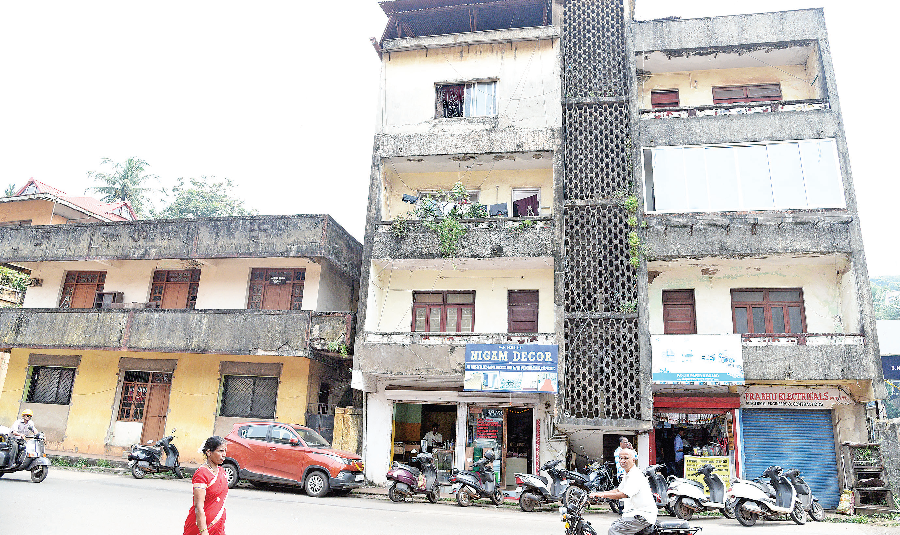 More than a year back, the North Goa Planning and Development Authority (NGPDA) had come out with a proposal to give upto 200% floor-area-ratio (FAR) for redevelopment of old buildings within Panaji's city limits.
The idea was to allow higher FAR so that two floors can be reserved for parking thereby decongesting Panaji's roads. Besides, more FAR will mean that developers can build more floors in the new building than in the old building, which, in turn, can be sold to make money and recover the investment.
However, NGPDA has not implemented the proposal. Michael Lobo, chairman, NGPDA, said, "As of now, we have not implemented this proposal of allowing upto 200% FAR for redeveloping old buildings in Panaji."
The way redevelopment happens is that a housing society of an old building has to sign an agreement with a builder to redevelop the building. Based on their negotiations, either the old residents get a flat of the same area, or at times of even bigger area.
If higher FAR is allowed, then, a builder can make more floors than in the existing building, which can be sold to make profit on investment. However, if more FAR is not allowed, it becomes very difficult for a builder to recover his investment.
At the time the proposal was announced, Lobo had even clarified that two floors meant for parking were over and above the 200% FAR for redevelopment of old buildings. This meant that parking space wasn't eating into the additional FAR supposed to be given for redevelopment. But, the proposal hasn't materialised yet, as NGPDA is yet to implement it.
200% is the maximum FAR allowed in Panaji, with the exception of Patto, where 250% FAR is permitted. However, a number of old buildings in Panaji are either in residential or in local commercial zones, which have FAR of 100% and 150% respectively.
Most of these buildings are 4 or maximum 5 floors and have 14 to 15 meters height. Often, they don't have parking and are in dilapidated condition begging for repair or redevelopment.
Dr Jagannath (Desh) Prabhudessai, president of the Goa unit of CREDAI (Confederation of Real Estate Developers' Association of India), said, "CREDAI had given a suggestion to the government to declare certain areas as special residential zones with more FAR. Many parts of Panaji have 100% FAR for buildings. If more FAR is
not allowed, who will bear the cost of redevelopment?"
This is the crux of the problem with redevelopment, as far as builders are concerned. But, there is a social angle to this issue as well. Most old buildings have elderly residents, who don't find it comfortable to climb up stairs in the absence of lifts.
In a number of cases, the younger generation of owners of such old flats are not willing to leave Panaji and relocate to other parts of Goa. This is mainly because Panaji offers them better economic prospects than anywhere else in the State. Such younger folks would ideally love to stay in Panaji, but it is not making any economic sense for builders to redevelop old buildings under the current rules.
Sahil Adwalpalkar from Adwalpalkar Constructions said, "Even in C-1 (commercial-1) zone in Panaji, maximum permissible height of building is 24 meters. With this limit, you can't build more than ground plus 8 floors. If you make two floors for parking mandatory in such limits, no builder will be willing to take an old building for redevelopment."
This is the reason why NGPDA's original proposal had the provision of allowing upto 200% FAR for redevelopment, which was over and above two parking floors.
Another builder, who didn't wish to be named, said, "It's very difficult to build basement for parking in Panaji, predominantly due to water table. With great difficulty, you can go one level below for parking, which is also at a huge cost. Going 2 or 3 levels below is just not possible because of water table."
Based on this, it's clear that most buildings will have parking above ground level in Panaji. But, there is another issue as well. A number of eminent architects have earlier warned against giving more FAR because in their view adding more floors to a building in Goa will not work, as roads are very narrow.
The architects have also said that the State government should think of building adequate infrastructure like water and power before allowing higher FAR.
Building infrastructure is government's job. Anyway, builders are paying infrastructure tax to the government. However, under the current scheme of things, it looks near impossible that builders
can take up old buildings in Panaji for
redevelopment.
Related news