A majestic musical vision
One of the world's leading musicians, Baluji Shrivastav, who received recognition from the Queen of England along with other visually impaired musicians, is in Goa to present 'Antardrishti- Inner Vision'. This event to be held at International Centre Goa (ICG) will be followed by a unique music and dance performance
Story: Karsten |

Miranda

|
06th October 2017, 06:04 Hrs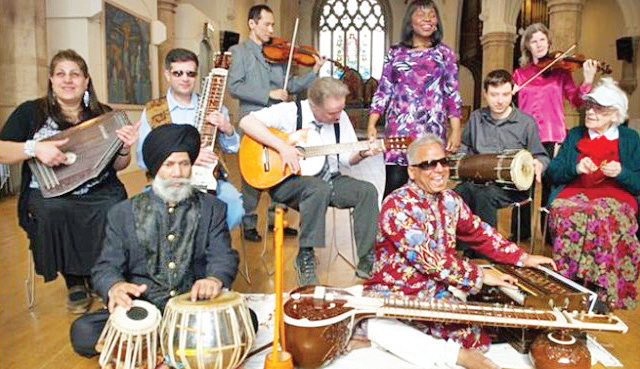 Ludwig van Beethoven, is considered to be one of the most famous and influential of all composers. The German virtuoso pianist, suffering from loss of hearing in his late 20s and by the last decade of his life he was almost completely deaf, but this didn't stop him from composing and many of his most admired works come from these last 15 years of his life.
While Beethoven is a name synonymous with music, there have been many other musicians who have achieved greatness overcoming physical limitations. Ray Charles for instance, is another famous American singer-songwriter, musician, and composer who was visually impaired.
Closer home, there's an Indian- origin multi-instrumentalist who is another fine example. The distinguished UK-based Baluji Shrivastav, is one of the music world's most in-demand sitar players and has even led an ensemble of visually impaired musicians.
Baluji returns to India to host an artist presentation followed by a unique music and dance performance of an exciting new work-in-progress at The International Centre Goa in Dona Paula on October 8.
About Baluji Shrivastav
Originally born in Agra, Baluji who has been visually impaired since the age of four, excels in playing sitar, dilruba and tablas, and this year received the prestigious NRI Award for Arts & Culture 2017, the annual awards held in Mumbai celebrating outstanding contributions by Non-Resident Indians. This year, Baluji was also awarded a British OBE medal by the Queen for his services to music, having set-up the Baluji Music Foundation to support accomplished visually impairedmusicians, including creating the Inner Vision Orchestra, the UK's only ensemble of visually impaired musicians.
As a young boy, he confounded his teachers at Ajmer Blind School in Rajasthan after they had initially forbidden him from touching the sitar, warning that it was physically too large for him! It could be argued that two key words that defined Baluji's early life were 'prejudice' and 'discrimination', particularly not being born into a musical family and being required to provide his own financial support through non-artistic endeavours. Blindness had barred him from the standard route forged by most Indian classical music students, and so with no mentor, he was forced to teach himself. The happy result of this is that unlike many of his peers, he can play all types of music and experiment with traditional forms, which may confound some purists!
Despite the barriers faced in his life, Baluji considers himself fortunate, he's worked and collaborated with, among others, Stevie Wonder, Massive Attack and jazz composer Andy Sheppard and is actively involved in the British Paraorchestra as well as his own Inner Vision Orchestra which he heads.
About Antardishti
His new project, Antardrishti, which he'll be presenting on October 8 at The International Centre Goa, is inspired by the Bhagavad Gita, one of the world's most celebrated scriptures, which in part deals with the subject of inner-vision and human perception. The work-in-progress gathers professional visually impaired musicians from across India, particularly Sayani Pilat, Raju Maurya, Perumal Varudaraj and Chiman Lal, along with classical Indian dancers from Bengaluru's Shree Ramana Maharishi Academy for the Blind to collaborate with artists from the UK. These include Kevin Satizabal and Peter Boscher, both members of the Inner Vision Orchestra, plus the pioneering digital artist duo Addictive TV, who bring an innovative audiovisual dimension to the project.
Baluji's love of experimenting brought him in contact with Addictive TV some years ago with their global sampling project Orchestra of Samples, where the electronic duo filmed musicians improvising around the world, including Baluji himself, then sampled them all - both audio and video - to create sampled-based music audiences can see.
This innovative idea intrigued Baluji and fitted as a counterpoint to the project's theme, and so for the last two weeks, Addictive TV have joined all the other artists who've been rehearsing in a residency at the International Centre Goa. They're recording and digitally capturing all the musicians for audiovisual sampling as part of the Antardrishti Project.
The idea behind Baluji's Antardrishti originates from a 2016 trip, where a research team, led by Baluji, travelled to Delhi, Bangaluru, Chennai, Rajasthan, Kolkata, and Gujarat, to discover and collaborate with many enthusiastic and talented visually impaired musicians and dancers. As well as support from the Baluji Music Foundation, the current work-inprogress and residency in India has been funded by the UK arts commissioning programme Unlimited, that supports ambitious projects by outstanding disabled artists and companies across all art forms. Unlimited's three year programme was born from the success of their first commissions during the London 2012 Cultural Olympiad and Baluji's project is the only international music commission, which itself is also supported by the British Council.
In 2018, when the collaboration is completed, audiences will experience something new and exciting, with the project of course celebrating and promoting a positive image of specially abled people and creating new opportunities for those involved. This Sunday is a rare opportunity for audiences to glimpse the work-in-progress and get involved by asking questions in a session following the show. The performance will feature sitar, tablas, violin, piano, flute, bansuri, vocals and classical Indian dance.
This free event is open to everyone, and is organised in association with The International Centre Goa and is supported by the British Council and UK arts organisation Unlimited, funding artists with disabilities. Request from the organisers to those interested, to arrive early.
Related news