Space constraint bug hits Hospicio again after ward declared unsafe
But lasting solution lies in commissioning of new district hospital, say doctors
Story: GUILHERME |

ALMEIDA

|
14th September 2017, 06:01 Hrs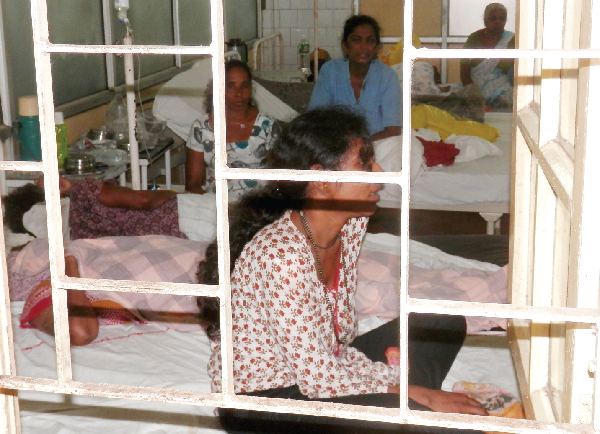 MARGAO
Health Minister's promised monthly meetings to review construction of the long-delayed South district hospital under construction with TCP Minister Vijai Sardesai and officials have hit a block, even as space constraint has come to haunt Hospicio hospital in a big way with female patients shifted to other wards after the building housing the female ward was shut down after it was declared unsafe.
Indeed, shifting of the female patients to other wards has only aggravated the space crunch with Hospicio authorities struggling to accommodate the patients partly in the male medicine section and other wards. Female patients sharing beds or being accommodated on the floor for want of beds in the female wards has now become a norm than an exception due to the space constraint, especially after the shifting of the female medicine ward.
The stop gap arrangement worked out by the Hospicio authorities has helped manage the space issue for the moment, but doctors in the government-run hospital in private say the only answer to the space constraint at Hospicio is the expeditious commissioning of the district hospital.
"For the moment, Hospicio has adjusted by shifting one full female medicine ward from the unsafe building though patients are made to share the beds placed on the floor. This will continue till the new hospital under construction is commissioned," remarked a Hospicio doctor in the know.
Incidentally, when health minister visited the South district hospital under construction, he promised all and sundry that he would review the progress of construction of the new building every month with TCP Minister Vijai Sardesai and other officials.
That was way back on April 29, and the review meetings promised by the Health Minister at the hospital site or at the next door residence of the TCP Minister have failed to materialize till date. It's now a little more than four months since minister handed out the promise to hold the monthly review meetings, but the Health Minister with the TCP Minister have not made their presence felt at the under construction hospital till date.
When The Goan called up TCP Minister, who stays next door, to shed light on the health minister's review meetings, Sardesai was frank in admitting that the review meetings could not take place because of the election code and that the minister was pre-occupied with the by-poll for the Valpoi constituency.
"The review meeting will take place soon with the Health Minister and health officials. I have also invited the Chairman of the Hospicio visiting committee for the deliberations. T
he review meetings could not take place since minister was busy with the bye-poll," Sardesai said.
Both the Health Minister and the TCP Minister had promised that the long-delayed district hospital will be commissioned by April 2018.
Related news