Threat perception raised by Vinoda is in general: CM
Says police will take all measures needed to safeguard the minister
Story: the |

goan

|
14th September 2017, 05:57 Hrs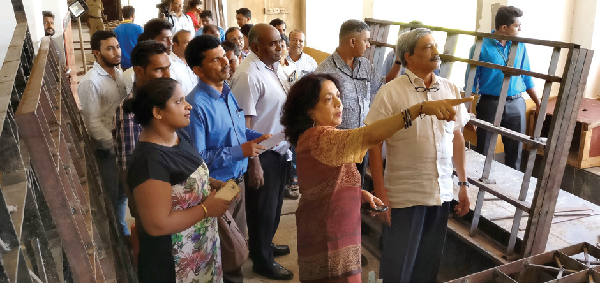 VASCO
Stating that the threat perception raised by WRD Minister Vinoda Paliencar was general and not specific, Chief Minister Manohar Parrikar on Wednesday said the police would, however, take all measures to safeguard the minister.
Insisting that he was neither scared not threatened by the drug mafia, the chief minister also invited people to contact him with any relevant information about the drug network and assured to maintain confidentiality about their names and identity.
Parrikar was responding to media queries along the sidelines of an inspection at Cortalim, on claims by Paliencar that he could be under threat for his strong action against drugs. "Police is taking all required action in the matter. The threat was not specific and the minister felt in general that he could be under threat as people were following him. However, police has to ensure there will be no threat to the WRD minister," said Parrikar. "I won't call it a speculation but he may have felt that unknown persons were following him after he had taken on the drugs issue and that, these persons with vested interests may have planned to approach him for settlement or compromise or to threaten him."
"An analysis is being conducted by a special 'Security Threat Committee' and they will take appropriate action and provide whatever security that is required," Parrikar added. The CM had a word of praise for Goa Police in its crackdown on drugs.
"Till date, 38 cases have been booked and drugs worth Rs 40 lakh have been seized. These are only retailers and the government is trying to destroy the drugs network and those places linked to drugs will be under scanner. The big fish involved in the drug trade will be apprehended at the right time," said Parrikar.
Asked if he felt scared or threatened by the drug mafia, Parrikar replied: "I am not scared nor feel threatened. I have been defence minister of the country and I know how to take care of myself," said Parrikar.
"Sources regarding information about drugs are needed and those with any relevant information may write to me and I will not reveal their names or identity," assured the chief minister.
Related news