Shortage of nurses at North Goa district hospital
Story: the |

goan

|
13th September 2017, 02:41 Hrs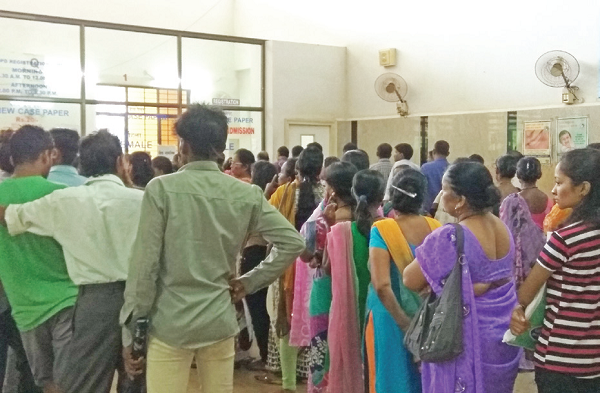 MAPUSA
Shortage of staff nurses and senior consultants has begun to affect the functioning of the North Goa District Hospital (Asilo), even as the largest government hospital in Mapusa has reported steady rise in patients.
It is learnt that there was shortage of at least 37 nurses in the hospital, which has now gone down to 27 after the government dispatched 10 nurses on contract to the district hospital.
Lack of specialist doctors have also started taking a toll in the functioning of the hospital.
Sources disclosed that only one consultant was available in the ENT department, while one post of senior consultant was vacant in the Medicine department. The crucial Orthopaedic department is being manned by one specialist from South Goa and another one is deputed from GMC.
The situation in gynaecology and paediatric departments is reportedly okay vis-a-vis the availability of consultants, the source said. Interestingly, Asilo has been experiencing a steady rise in patients for the last couple of years.
At least 1,200 patients attend the Out Patient Department (OPD) on a daily basis even as a count of 200 patients is reported every day in the casualty. Besides, almost all beds in all the wards have reported full capacity.
Further, on an average five deliveries per day are reported in the government hospital at times making it difficult for the authorities to accommodate all the patients in the gynaecology department.
The Medical Superintendent, Dr Geeta Kakodkar acknowledged that the hospital has been witnessing a steady rise in patients.
"There is no specific outbreak of any particular illness. The rush that you see is become quite normal in this hospital now," Dr Kakodkar said. She said although there was an issue of staff crunch, it has not affected overall functioning of the hospital.
"People go on leave and that's when we experience some staff shortage issues. But it has not affected the functioning of the hospital in anyway. We have been managing quite well so far," Dr Kakodkar said.
Related news