Camara not maintained properly over the years: Spanish expert
Story: the |

goan

|
13th September 2017, 06:20 Hrs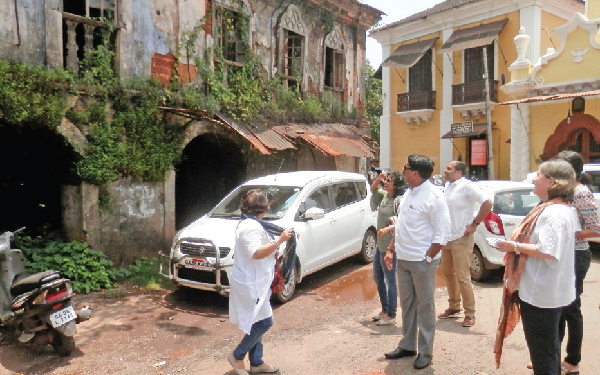 MARGAO
L K S consultants - engaged by Goa State Infrastructure Development Corporation (GSIDC) on Tuesday had a close look at the crumbling Camara de Salcete building along with TCP Minister Vijai Sardesai ahead of the presentation before Chief Minister Manohar Parrikar on the implementation of the Goa Tinto scheme in the city's Old market area.
A lady representative of the consultant got a first-hand experience of the heritage structure as she visited the site along with the TCP Minister, SGPDA Chairperson Dr Renuka Da Silva, architect Ankeet Prabhudesai and others on Tuesday.
"I would like to take a close look at the structure. Only then will I be able to say that whether a portion of it needs to be razed down or refurbished," the representation, believed to be a native of Spain told the TCP minister. And, before leaving the plan, she made it clear that the structure does not look to have been maintained properly over the years.
The TCP minister pointed out that L K S Consultant was engaged by the government to prepare a master plan for Panaji city, adding that the consultant has a brief to prepare a similar plan for Margao as well.
"I would like the consultant to make a detailed study of the Old market area of the city as part of urban renewal and heritage restoration. We want the consultant to prepare a model to achieve this objective," Sardesai said, adding that the consultant's lady representative will make a presentation before the Chief Minister Manohar Parrikar on the restoration of the Old Camara building and the Old market Tinto and heritage structures.
Related news