Authorities pass buck as Raheja work goes on despite stop order
Carmona p'yat to hold site inspection tomorrow
Story: the |

goan

|
13th September 2017, 06:19 Hrs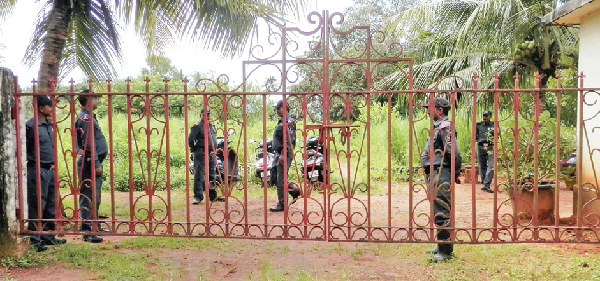 MARGAO
Authorities passed the buck on the implementation of the stop work order issued by the Town and Country Planning department directing Mumbai-based realtor Ms Raheja Universal to stop all work inside its property at Carmona.
In another development, the Colva police have written to the Sub-Divisional Magistrate, Margao Uday Prabhudesai to intervene and initiate action on the petition filed by the Carmona village panchayat alleging violation of the TCP's stop work order.
When The Goan called up Town Planner, Margao R Borkar to shed light on the allegations made by the Carmona panchayat stating that activity continues unhindered inside Raheja property at Carmona, he pointed out that the panchayat body can initiate action and implement the stop work order with the help of the police. When his attention was draw to the stop work order, which has not expressly issued any direction to the panchayat body to implement the order, Borkar said the panchayat is empowered to act with the help of the police.
Interestingly, when The Goan called up Colva police station in-charge, PI Filomena Costa to find out whether the police have acted on the complaint lodged by the panchayat body, the police officer said the police have not received any directions to stop the work. "Where's the question of implementing the stop work order when the police has not received any directions from any authority," PI Costa asked. He, however, hastened to add that he has written to the Sub-Divisional Magistrate, Margao to intervene in the matter in the wake of the complaint received from the Carmona panchayat.
Meanwhile, the Carmona panchayat will hold site inspection of the Raheja project coming up in the village on September 14 at 10.30 am. Acting Sarpanch Savita Mascarenhas will lead the panchayat team which will be assisted by technical personnel.
In a statement, a villager Wenzy Viegas said the project has been served a 'stop work order by the TCP department after villagers complained that the company is violating conditions laid down in the project licence. Villagers have also complained that work continued at the site and heavy vehicles were seen transporting construction material despite the stop work order.
"The bold decision of the panchayat to hold the site inspection is parallel to the action taken by the TCP department on directives of the Minister Vijai Sardesai," he said.
The acting sarpanch has asked Carmona villagers to attend this site inspection and air their genuine grievances and concerns over the alleged illegalities of the project.
Related news