Will the govt walk the talk this tourism season?
Just a month before the start of the tourism season, the stakeholders are a worried lot, as they are not sure whether there is a system for beach cleaning, whether shacks will be allotted in time or not and whether there will be a permanent solution for the menace of garbage
Story: Karan |

Sehgal

|
11th September 2017, 04:57 Hrs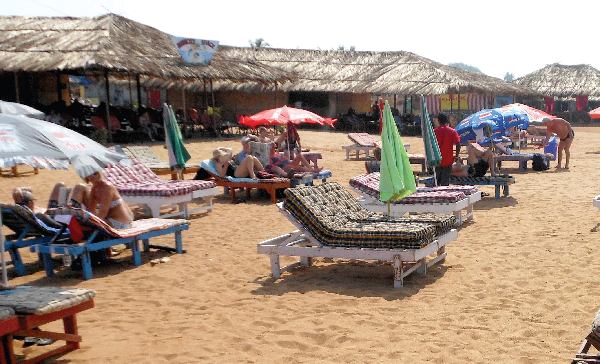 Tourism Minister, Manohar 'Babu' Azgaonkar, might have made all the right noises about taking care of all tourism-related concerns, but it appears that the tourism sector is still facing age old problems for which the stakeholders aren't sure if there's a solution. Moreover, upcoming tourism season will start sometime in October, which means that there is very little time left to take corrective action.
Savio Messias, president, Travel and Tourism Association of Goa (TTAG), said, "We are not sure as to which agency is officially supposed to clean the beaches in the state."
Messias's concerns were echoed by Cruz Cardozo, president of Shack Owners Welfare Society (SOWS). Cardozo said, "No one knows who is going to clean the beaches. We absolutely need clean beaches and we have to take care of the garbage problem."
Sources also revealed that the state government had given the contract to clean the beaches to Drishti Lifeguards temporarily, but still there is a lot of ambiguity as to which agency will be cleaning the beaches this season.
Last year, the shacks were allotted by the end of November due to which shack-owners lost a lot of business. Even as Azgaonkar has assured that shack allotment will be done this year by September 20, it remains to be seen whether it will happen or not.
The National Centre for Sustainable Coastal Management's (NCSCM) study had recommended reducing the number of shacks by 8 at Baga-Sinquerim stretch and by 5 at Ozran, but the tourism department has said that the number of shacks will remain unchanged this year because this is based on a three year policy, which will be in force till the 2018 season.
Regardless of the policy, the study has clearly said that the number of shacks should come down in those two parts of Goa. Given this, some of the tourism stakeholders sounded apprehensive whether the government will be able to indeed allot shacks in time this year.
Apart from such technical matters, there are certain ground realities, which haven't changed for the better. Cardozo pointed out, "There are no toilets and no changing rooms on any beach in South Goa. In Benaulim, even the high mast light on the beach is not working."
Having no lights, toilets or changing-rooms makes Goan beaches unsafe for the tourists. Even earlier, a number of stakeholders have raised these concerns, but it seems that the government is yet to find a solution for these very basic issues.
The British government has already issued advisory warning to its citizens that there have been unfortunate instances involving British people in Goa, most recently the murder of a young female traveller in March 2017. The advisory also mentioned that there have been reports of drinks being spiked in Goa and of travellers, including British nationals, getting robbed and assaulted. After Russia, it is the UK, which sends maximum number of foreign travellers to Goa.
Messias said, "Something has to be done to take care of the issues raised by the British government in its advisory. These issues can result in lack of confidence among travellers."
A travel agent, who preferred remaining anonymous, said, "I am not happy with the way the government is promoting Goa. There is no proper co-ordination between the agents and the government. Last year, we brought in thousands of tourists to Goa, but I wonder if the government even knows about it."
Tourism sources even complained that the taxi issue has still not been sorted out. There have been so many complaints about taxi operators charging unreasonable fare, but this issue too is yet to see a permanent solution.
Related news