Icing on the cake
Alisha Faleiro who hails from Goa won the prestigious Callebaut Patissier of the year 2017. She will now go on to represent India at the Asian pastry cup 2018, to be held in Singapore, and if selected, then at the World Pastry the Lyon, France in 2019
Story: Karsten |

Miranda

|
10th September 2017, 03:38 Hrs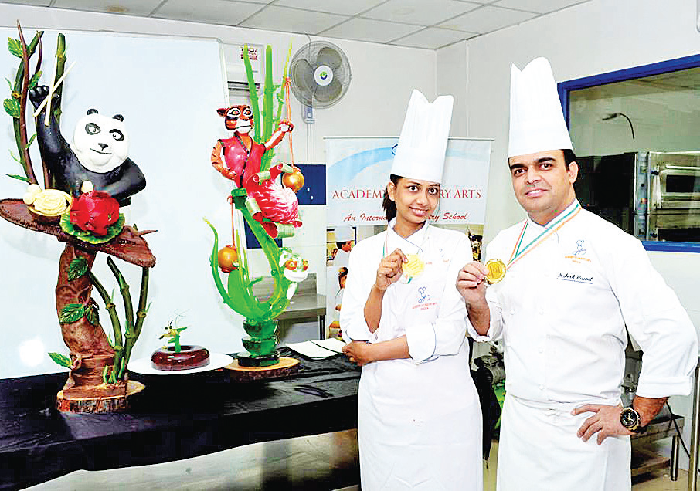 While Goa is known for its cuisine, the state is home to numerous award winning chefs who have etched their names in the record books across the world and made Goa proud. Be it their natural talent and inclination to conjure up wonders in the kitchen, to that touch of class and panache, Goans can leave you spell bound.
And Alisha Faleiro, who hails from Gogol, Margao, has done just that. The alumni of Presentation Convent High School and Chowgule College pursued her passion and followed her dreams to be a chef. Little did she know then, that one day she would be living the dream.
After studying Hotel Management from Institute of Hotel Management, Goa and working with the Oberoi group of hotels, Alisha has been teaching at the Academy of Pastry Arts, India (that has two schools that teach French patisserie in Gurgaon and Bangalore).
Her team from the Academy won the India level competition India Pastry Cup 2017 and will now represent India in the Asian Pastry Cup 2018 in Singapore. Alisha also won the reputed individual award, the Callebaut Patissier of the Year 2017.
Selection at Asian Pastry cup entitles the team to represent the country at Coupe du Monde, the World Pastry Cup, considered to be the greatest platform for a pastry chef, which will be held in Lyon ,France in 2019.
The judging panel included: Chef Emmanuele Forcone, Chief Jury for the World Pastry Cup in France 2017 , Chef Vincent Bourdin - Director, Asian Pastry Cup - Singapore and Chef Avijit Ghosh, Corporate Pastry Chef, Leela Hotels .
"Any professional pastry chef with minimum 3 years experience can participate in the event. You represent the country on an international platform. It cannot get anymore prestigious!," said Alisha.
Both the competitions are a team event where the chefs need to produce various items in ten hours.
A team of two was supposed to prepare the following items in the live competition:
1. Plated dessert 2. Entremet (cake) 3. Sugar sculpture display of height 120 cms and 4. Chocolate sculpture display of height 120 cms
The team comprised of Alisha and Mukesh Rawat (Dehradun) who has represented India winning a bronze medal at the 2016 Asian Pastry Cup and at the World Pastry Cup in 2017. He has worked for several reputed brands across the country.
"The preparation and effort was enormous. But surely worth all the effort. Chef Mukesh and I along with our assistants did several time trials. The competition was a 10 hours straight event which involves the presentation of 2 entremets, 5 plated desserts, a sugar showpiece and a chocolate showpiece. Winning is always a great feeling. But you learn so much more when you participate. From yourself and the competitors which only makes you work harder," said Alisha
For the competition, Alisha was in charge of the chocolate display and plated dessert while Mukesh was in charge of the other two items.
The plated dessert (pic on the left) involved the use of a lime meringue. Lime was used to balance the taste of the relatively sugary meringue. The domes were filled with a crunchy salted almond streusel, a whipped chocolate chantilly to add creaminess, the acidity and fruitiness was attained from a fresh orange infused pineapple compote and an airy lime whipped jelly. It was topped with an exotic fruit sorbet to complement all the flavours.
"I feel proud of the entire competition. You work as a team even though you may be individually responsible. On the day of the competition I was running a little behind schedule. It was my team mate who stepped in to help me," added Alisha.
While explaining how she prepare for such a strenuous task, working 10 hours with no breaks for rest or lunch, it turned out the adage 'practice makes perfect 'was the perfect recipe.
"It is a strenuous task. There is a whole lot of planning that goes into it. We practise months in advance so that we utilize our time in the most optimum way possible when asked about the difficulty ," said Alisha.
Meanwhile, the Callebaut Patissier of the Year award which she won is also an all India competition which involved the preparation of chocolate bon bons, a chocolate cake, a chocolate to go based on the concept of a dessert packaged as a street or packaged food (she made a chocolate sandwich) and a chocolate display.
"Cooking was always my passion and a way I would de-stress. There were many who did not conform to the idea of me being a chef but my parents and family supported my choice to go ahead and follow my dreams," said Alisha.
She also gave credit to her training, having worked with one of the best brands in the country and studied at the prestigious Oberoi Centre for learning and development.
"I felt the need to push myself more and joined the Academy of Pastry Arts India where we groom young individuals with the finest pastry skills," added Alisha.
When pointed out that in Goa, there is still an dominant traditional mindset where students are encouraged to take up more mainstream occupations, she encouraged fellow budding chefs to follow their passion.
"There is nothing like following your passion. If your heart is in the right place everything will follow. I think I am a live example of this. Chef is no more a profession that is looked down upon. And while the journey is not easy and as glamorous as it seems it has its positives too," said Alisha.
Related news