IT'S TODAY: VOTERS' DAY OUT
All stops pulled to ensure incident-free bypolls in Panaji, Valpoi constituencies
Story: The |

Goan

|
23rd August 2017, 03:14 Hrs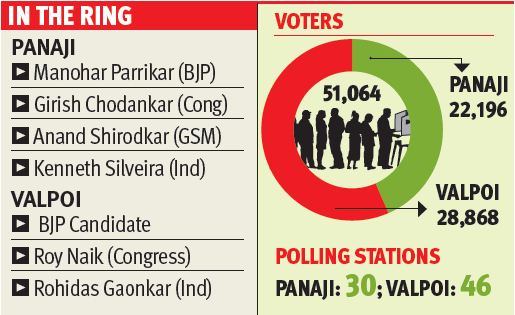 PANAJI: Around 51,064 voters will cast their vote at 76 polling stations in Valpoi and Panaji constituencies on Wednesday as the Election Commission pulls out all stops to ensure a free and fair election in the state.
Manohar Parrikar of BJP, Girish Chodankar of Congress, Anand Shirodkar of Goa Suraksha Manch and independent candidate Kenneth Silveira will battle it out for Panaji and while BJP candidate will go up against, Roy Naik of Congress and independent Rohidas Sada Gaonkar at Valpoi.
The office of Chief Electoral Officer, Goa has announced that its staff is fully prepared and that all necessary measures have been adopted to ensure free and fair elections. Voting will begin at 8am and end at 5pm on Wednesday.
"A total of 51,064 electors will be eligible to exercise franchise on August 23 in the two constituencies," Navti stated.
Additional CEO Narayan Navti explained that the total number of electors in Panaji stands 22,196 as against 22,203 in February. The number comprises 10,640 males and 11,556 females. There will be 30 polling stations in Panaji constituency.
In Valpoi, a total of 28,868 electors have been included in the electoral roll as against 23,129 in the recent Assembly elections. These comprise 14,350 males and 14,528 females. CEO has set up 46 polling stations in this constituency.
Upon review of the sensitivity and hypersensitivity of each polling station, six polling stations in Panaji have been declared as critical.
Three companies of Central Paramilitary Forces (CPMF) have been posted across the two constituencies since last week to prevent untoward incidents.
"Assured Minimum Facilities such as electricity, water and the like have been prepared at all stations. There will be shade outside the station to protect voters from sun and rain. In addition to this, BLO will be seated with list of voters to help lo locate stations for voters," Navti said.
It was also learnt that one wheelchair has been provided at each polling station to cater to the old or disabled voters.
The additional CEO also informed that Electronic Voting Machines fitted with VVPAT (Voter Verifiable Paper Audit Trail) will be distributed to polling teams by Tuesday evening. Technicians have been appointed to troubleshoot any complaints about the machines on the polling day along with around 450 polling staff across these two constituencies.
As part of additional measures, the North Goa Collector and District Election Officer Nila Mohanan has informed that section 144 of the Code of Criminal Procedure has been activated within 200 metres of a polling station to prevent the gathering of more than five people as well as the closure of all restaurants and shops in the vicinity of polling stations to prevent the gathering of people which could lead to law and order situations.
Once polling is completed the electronic voting machines will be sealed and stored in the strong rooms set up at the Old GMC Complex at Panaji with separate strongrooms for the Panaji and Valpoi constituencies on different floors of the building.
"As per the instruction of the Election Commission of India we will be maintaining a three level perimeter security cordon along with CCTV cameras with an option for the candidates to check the CCTV footage.
-----------------------------------------------------------
IN THE RING
PANAJI
Manohar Parrikar (BJP)
Girish Chodankar (Cong)
Anand Shirodkar (GSM)
Kenneth Silveira (Ind)
VALPOI
* BJP Candidate
* Roy Naik (Congress)
* Rohidas Gaonkar (Ind)
---------------------------
Call 1950 for grievances: CEO
CEO, Goa has requested persons with election-related grievances to dial 1950 for quick redressal. "In case anyone has any grievances, suggestions or complaints, they are requested to call our toll-free number 1950. The line will be operational through day and night on August 23. Every call will be attended to and all complaints will be directed to multiple static surveillance teams and flying squads for action," Navti stated.
----------
Dry days to apply for casinos too
North Goa Collector Nila Mohanan reassured that the dry days would also be applicable to the casinos with the casinos coming within the jurisdiction of Panaji.
"We have been monitoring the casinos for a while now. The excise department has ensured that the casinos also do not serve liquor. They are allowed to keep the casino part open," Mohanan said.
The Dry days are applicable from 5pm of August 21, 2017 till intervening midnight of August 23, 2017 and August 24, 2017 in view of polling and from midnight on the eve of counting August 28, 2017 to the following midnight of August 29, 2017 within jurisdiction of Panaji and Valpoi Constituencies for by election.
Related news