Babush not told to campaign, but ready to come out
Story: The |

Goan

|
19th August 2017, 03:41 Hrs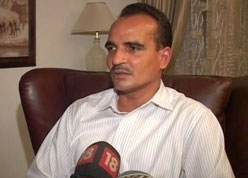 PANAJI: Taleigao supremo and Goa Forward leader Atanasio 'Babush' Monserrate has asked all his workers to support Chief Minister and BJP's candidate Manohar Parrikar in the upcoming Panaji by-polls.
Speaking to media persons, Monserrate said, "As far as I am concerned, I have given a clear indication to all my workers, whoever supported me in last election, that they should whole-heartedly support Manohar Parrikar. Parrikar has not asked me to campaign for him. But if he asks me to campaign, definitely I would do it. He doesn't need anyone to campaign for him in Panaji. He himself is a man of stature."
Expressing confidence of Parrikar getting overwhelming support in the upcoming by-poll, he said, "I lost the last Assembly election for the simple reason, which I now believe, is that Parrikar went around assuring the people of Panaji of his comeback to Goa. He got Sidharth to contest from the capital city so that he could vacate his seat for him (Parrikar). So, on that assurance actually, I feel Sidharth was elected. Now that Parrikar has come back to local politics, I feel he will get an overwhelming support."
Monserrate also pointed out that the real issue in Panaji was not that of casinos, but traffic and parking woes.
"In Panaji the main issue is not casinos, but it is the parking. As far as parking is concerned, Fontainhas area is completely choked. In case of an emergency even an ambulance cannot pass from there. The Chief Minister has categorically assured that he will look into it," said Monserrate.
------------------------------------------------------
----------------------------------
I have given a clear indication to all my workersto support Manohar Parrikar. Parrikar, if he asks me to campaign, I would defenitely do it
- Babush Monserrate
----------------------------------------------
CASINOS NOT MAIN ISSUE!
* For Monserrate the real issue in Panaji is not that of casinos, but traffic and parking
* As far as parking is concerned, Fontainhas area is completely choked, he said
* The Chief Minister has assured to look into the issue, said Monserrate
-------------------------------------------------------------
Related news