Cruise tourism cruising, but MPT terminal isn't: stakeholders
At a time when a British cruise line company has raised concerns about Mormugao Port Trust (MPT) being a lot more expensive than developed ports, tourism stakeholders in Goa have said that the infrastructure at the port's new cruise terminal needs significant improvement to really tap the lucrative segment of foreign tourists arriving on cruise liners.
13th August 2017, 03:27 Hrs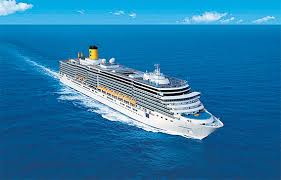 the goan I network
panaji

Deepak Lotlikar, managing director, Travel Smith Adventure, said, "The new cruise terminal is not big enough to accommodate large cruise vessels. If vessels are really big, they are made to dock at old port, where various kinds of cargo is handled making it dusty."
He continued, "The government will have to work on this aspect of infrastructure at the new terminal. Goa is the most famous port on the western coast of India due to our unique culture. Therefore, the potential is huge from cruise tourism viewpoint."
The new cruise terminal was built at a cost of Rs 8.7 crore, but it appears that it is not at par with developed cruise terminals around the world. The government had even said that the new terminal provides facilities like immigration, customs, restaurant, Forex booth and taxi booth.
Sources acknowledge that the government and the port authorities have worked towards improving the cruise terminal, but a lot more is required.
Savio Messias, president, Travel and Tourism Association of Goa (TTAG), said, "Only smaller cruise vessels can dock at the new cruise terminal of MPT. The larger vessels have to dock somewhere else, which is a huge concern." The idea behind having a dedicated cruise terminal is to give a good experience to foreign tourists arriving on cruise vessels so that good word about Goa as a destination can be spread around the world.
But, if a cruise vessel is made to dock at any other berth of MPT, the tourists have to bear the dust and other issues resulting from various kinds of cargo being handled there. This brings bad name to Goa as a tourism destination.
Lotlikar further added, "We also need professional guides, who can interact with tourists and inform them about Goa as a destination. Such guides need to be given thorough training so that they can be an asset."
Meanwhile, MPT handled 36 cruise vessels in 2016-17, which was higher than 29 in 2015-16. Sources have also revealed that the port is likely to handle 40 cruise vessels in 2017-18. Going by these numbers, it appears that cruise tourism is growing, but stakeholders say the potential is a lot more. However, to reach the true potential, the government will have to work on improving the infrastructure and the facilities at MPT's new cruise terminal.
Related news