Now, police to keep tab on lax security guards at Ponda ATMs
Following an exposé by The Goan on lax surveillance by security guards at ATMs in Ponda city at night, South Goa Superintendent of Police Arvind Gawas has instructed police on night patrol to check on security guards by visiting the ATMs.
13th August 2017, 03:26 Hrs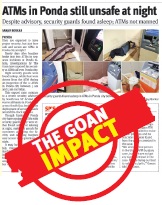 the goan I network
PONDA

SP Gawas was responding to investigations by The Goan which revealed that eight security guards were found asleep, while four were absent from the ATMs during an inspection of 12 ATMs in Ponda city between 3 am and 5 am on Friday. This comes barely days after burglars broke into two ATMs in separate incidents in Ponda taluka.
The Goan exposé on lax security at ATMs came after a recent security advisory by SP Arvind Gawas to all banks in Ponda and across South Goa, insisting on deployment of security
guards round the clock
at ATMs.
"I have instructed our police on night patrolling duties to visit the ATMs in Ponda city and keep a check on security guards. The Ponda police will visit ATMs at night to check whether the security guards are asleep or awake," SP Gawas told The Goan.
SP Gawas added that his office would seek a response from banks and financial institutions receiving the advisory on enhancing security at ATMs, following the recent burglaries at ATMs in Ponda taluka.
"Some have given favourable response and we are waiting for the rest to respond. We will then take necessary steps in this direction," he said.
Though banks in Ponda city have equipped ATMs with security guards, they were either found asleep or missing at night, making it unsafe for customers accessing the facility and allowing burglars easy access to the premises at night.
It may be recalled that in July, thieves stole an ATM machine from Usgao containing cash of Rs 3.90 lakh. The CCTV footage showed three persons entering the ATM room. Later, Ponda police arrested a person from Gulabarg-Bijapur, Karnataka, but failed to recover the stolen money.
Later on August 5, a person from Bantwal-Mangalore was arrested red handed while attempting to break open an ATM at Warkhande-Ponda.
Related news