Come clean on your failures in Panaji: Cong mocks Parrikar
Seeks explanation on failure to solve city's issues for 23 years
13th August 2017, 03:23 Hrs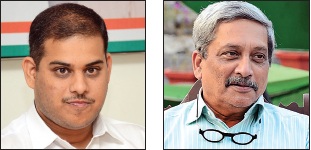 the goan I network
PANAJI
Goa Pradesh Congress Committee on Saturday demanded that Chief Minister and BJP's Panaji bypoll candidate Manohar Parrikar should come clean on his failures to solve the issues of Panaji for two decades when he represented the constituency.
Speaking at the Congress House, here, GPCC general secretary Adv Yatish Naik stated, "The incumbent BJP candidate has been an MLA of the Panaji constituency for 23 years. In this time, the issues of Panaji have remained the same and were probably kept unsolved. Before he seeks the mandate once again, he owes an explanation to the people why he failed to solve these issues in all these years despite being the CM."
The Congressman argued that the upcoming by-election is the third election in the last five years in the constituency due to the whims and fancies of BJP.
"But what has Panaji got in 23 years? There is flooding during every monsoon, St Inez Creek is crying for attention, parking problem is at its worst and the garbage issue has been left unattended. When he was the incumbent CM, Parrikar shouted from rooftops about releasing land from defence forces for civic amenities in Panaji. But as the defence minister, he did not release this land for Panaji," Adv Naik said.
Congress candidate Girish Chodankar, who is presently campaigning, has previously pointed out that the capital city still suffers due to irregular water supply and erratic electricity connection as well as the bad state of roads.
Meanwhile, Adv Naik sought to know why the BJP government has failed to release Rs 50 crore to the Corporation of City of Panaji, which was promised in the Budget.
"If you want to make Panaji a smart city, you have to have all these things. What do you attribute your failures to? Is it because you are disinterested in Panaji or have you taken the people for granted?" Adv Naik questioned while insisting that Congress is the only alternative if Panaji wants to put the BJP out.
He concluded by stating, "Never in the history of liberated Goa has a sitting CM ever lost. But last time, the electorate expressed itself. The electorate will express its mind once again in Panaji."
Related news