Rajasthan comes to Goa
Surrounded by hues of red and yellow, the walls donned with traditional handmade dolls, standing umbrellas and decorative fans made of colourful fabric with mirrorwork sarees hung everywhere and dozens of flower streamers for added ethnicity, get transported to Rajasthan as you step into the wonderfully decorated and exquisite Indian restaurant, Chulha. The aromatic and flavourful Rajasthani classics, combined with Grand Hyatt Goa's hospitality, are enough to make you feel like royalty.
12th August 2017, 11:47 Hrs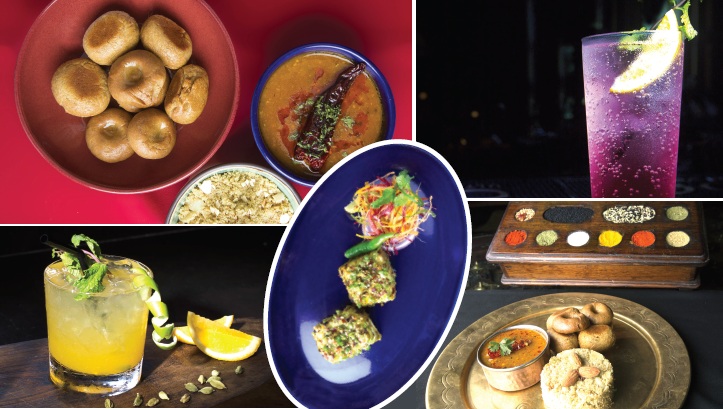 The 10-day festival highlights the tantalizing cuisine of Rajasthan.
There are a wide range of cocktails and mocktails to choose from. Most of the cocktails consist of Indian spices, all of which are custom creations by the restaurant's mixologist, each having their own back story and Rajasthani influence.
The Mathania - served in a brass glass is a vodka cocktail comprising of jalapenos and red chilli that is dropped into it at the end, which is balanced with lime and pineapple juice.
The Lake Pichola - a spiced rum cocktail comprising of ginger, triple sec, orange zest, lime juice and egg white is absolutely well done. One cannot taste any traces of the egg white.
Another flavoursome and colourful concoction - Khamba Gani is perfect for someone looking to explore the flavours of Rajasthan. A variety of mocktails are also available - The Pandit Lassi, Jaipuria Chaas and Ramgarh Milkshakes.
The Achari Gosht ki Tikki which are simple marinated and moist minced lamb meat cutlets grilled to perfection and served with a side of salad and mint chutney makes a delicious starter.
A delightful Paneer dish, Hing aur Mirch ka Paneer Tikka, deliver so many flavours in a single bite. The cottage cheese is stuffed with a green chili filling and flavoured thoroughly with asafoetida.
A chicken dish called the Banjara Murgh Tikka which are pieces of chicken in a brown cashew paste put into a tandoor and seasoned with spices and bell pepper is a must try. The nuttiness of the marinade and the crunch of the fresh bell peppers, complement each other really well. Like most tandoori dishes the chicken is succulent and moist and dried out.
Do not miss out on the Lal Maas, which is a very popular, fiery red colour, meat curry from Rajasthan. The Lal Maas is a very old dish that was initially eaten only by the royal families as the common man couldn't afford meat and the ingredients used in the preparation of the curry. Typically, deer or wild boar meats which were obtained from the hunting trips of the royal members were used in the curry but eventually over the years, mutton has become the main meat used in the curry. The curry packs a lot of taste. Tangy and spicy with a hint of dry chilies. The dish also has a slight smoky flavour to it which is an essential characteristic of a genuine Lal Maas dish. The dish listed on the menu is actually a twist on the traditional dish featuring chicken instead of mutton.
Every Indian meal is incomplete without authentic desserts; and Grand Hyatt Goa have worked on some delicious Rajasthani style mithais. It includes the classic Khaas Malpua which comprises of flour and coconut pancakes served with rich and creamy Rabdi which is a condensed milk base commonly found in Indian desserts.
Last but not the least Badaam ka Sheera which is roasted in desi ghee and loaded with almonds.
Related news