New Goa-built boat to sail around the world
Goa's scenic Divar Island today witnessed the beginning of yet another chapter in maritime history with the launch of sailing boat 'Thuriya'. The boat, a 32-ft Bermudan ketch (sailing boat with two masts), has been custom built by Aquarius Shipyard Pvt Ltd for Cdr Abhilash Tomy.
08th August 2017, 11:31 Hrs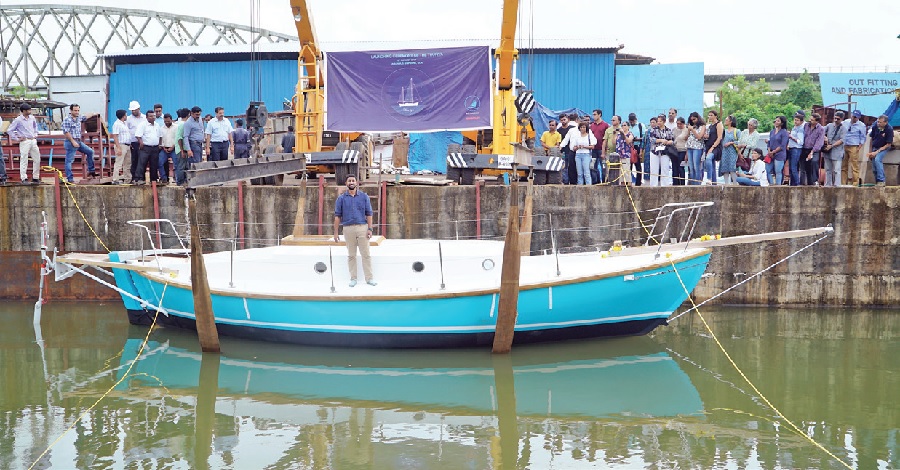 Cdr Tomy became the first Indian to sail solo and non-stop around the world in 2012/13, on 'INSV Mhadei', also built by Aquarius Shipyard. He now plans to compete in the round-the-world Golden Globe Race 2018, scheduled to start from Plymouth, England, on 30 June 2018.
The race aims to recreate the first solo and non-stop race in the world, conducted in 1968/69, on its 50th anniversary. In the original Golden Globe Race sponsored by The Sunday Times, nine competitors started the race but only one - Sir Robin Knox-Johnston - finished in his teakwood sailboat 'Suhaili', built at Mumbai in 1963.
Sir Robin was the first person in the world to complete a solo non-stop circumnavigation, and 'Suhaili' the first boat to sail non-stop around the world. This legendary sailor is closely following Cdr Tomy's progress. He has sent a video message from the UK while seated in 'Suhaili', to wish Abhilash well on the launch of 'Thuriya'.
'Thuriya' is built to the same plans as 'Suhaili' and will be the only replica of the iconic boat in the race. In the 2018 edition of the original race, the competitors will not be allowed to use any technology that was invented after 1968. They will have to navigate using the sun, stars and magnetic compass. No electronic equipment, including common gadgets such as a pocket calculator, digital watch, GPS and satellite radio, will be allowed. The challenge thus is a true test of human endurance and resilience against nature.
This is the third sail boat built by Aquarius Shipyard Pvt Ltd for a circumnavigation. 'INSV Mhadei' circumnavigated in 2009/10 and 2012/13. The second, 'INSV Tarini', will begin its circumnavigation with the first
Indian all-women crew later this month.
Related news