Saligao cleanup
Elsewhere in Saligao, there were multiple clean up drives and many more have been planned for the days ahead. Felly Gomes and group were involved in this activity too.
09th June 2017, 04:24 Hrs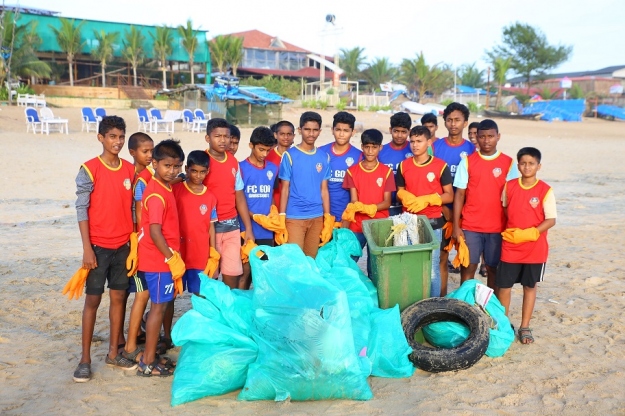 Besides them, Goa's leading musicians like Elvis Lobo, Carlos Gonsalves, Ranjit Arapurakal among others took part in this exercise that has since received praise across social media and the pictures of the same have gone viral.
Following the Carpet of Joy with a message to free aligao from litter, Noreen van Holstein started the Clean UP walk last week. Noreen is the program manager at MOG Museum of Goa and a CSR program manager on waste at a private firm. " I just walked in our Grand Morod waddo with my 6 year old daughter and we filled our garbage bags. Posted a pic on my facebook. And then, we suddenly had four families for the next drive where we cleaned up the area near near Saligao Church and in the coconut lane near the cemetery. A total of six bags," added Noreen.
This caught the attention of Elvis Lobo who initiated the next clean up. This time they divided themselves into two groups and it saw people joining in from Saligao, Nagao, Parra and Anjuna and they cleaned the nallas and roadsides near the Nagao circle to the Saligao church. With the pre-monsoon showers setting in, the move certainly was timely and they ended up collecting 18 bags full, three of which were filled with just glass bottles.
"People's response is great. Everyone is positive and many people want to join or start something," Noreen added.
She added that there were interesting ideas about how anyone and everyone can do this wherever they area. "Just walk out of your house with a dustbin bag and fill it in 30 min or so. Make it a run," quipped Noreen.
For their future drives, they plan to make it colour coded in terms of the garbage collected and they are making making Waste Warrior stickers that they will give to kids who participate.
"There will be many more clean up walks. This is just the beginning. We request people to keep their surroundings clean as this will help a lot," said Elvis.
Related news